Area Rug Cleaning in Vancouver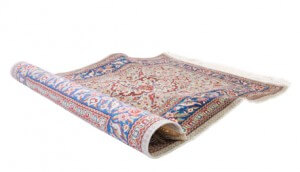 Hand made area rugs are unique, carefully crafted, woven works of art, not just floor coverings, and deserve individual cleaning by hand. Don't trust them in the care of just anyone.
Area Rugs Require Special Care
NUVOCLEAN® Surface Restoration has the expertise and experience to safely and effectively clean all types of area rugs. You can trust us to handle your investment with the special care it deserves.
The proper care of Oriental rugs and specialty wool area rugs is also an art, not just another job. At NUVOCLEAN® Surface Restoration, we love rugs!

Every area rug we are entrusted with gets personal attention, and a lot of it. Have a look at the cleaning process area rugs experiences in our care…
NUVOCLEAN® Surface Restoration - 10 Step Area Rug Cleaning Process
First your rug is carefully inspected by an expert both in your home before we take it away, and again at our facility under ideal lighting conditions. The existing condition of your rug is photo documented for your protection.
All dyes in your rug are tested to determine their colour fastness. Unstable dyes are stabilized before cleaning.
Then your rug is thoroughly mechanically dusted to remove all loose dry soil before any water based cleaning begins.
An organic solvent is applied to break down the oily soils that bind the damaging particulate soils to your rug.
If necessary, a deodorizer/sanitizer is applied to treat any odours the may be present.
Your rug is gently shampooed using soft brushes and a specially formulated, neutral pH, oriental rug shampoo.
This is followed with a fresh water rinse, removing all suspended soils, leaving your rug soft and residue free. An optional, though highly recommended, premium fabric protector formulated specifically for wool fibers is applied. Get more information about our fine fabric protector and our Spot Free For Life!™ program.
The wool yarns are then reset in one direction during the critical grooming process.
Your rug is then dried quickly in a humidity controlled environment.
Once dry, the rug is vacuumed again front and back before the final quality control inspection. Once approved for delivery, the rug is rolled up and returned back to your home.
Our 5 Step Area Rug Fringe Cleaning Process

Similar to the rug cleaning process, the first step is to apply an organic solvent to break down the oily soils.
This is followed by applying our natural fiber shampoo to the fringe and gently brushing the fringe by hand front and back.
The fringe is then rinsed with fresh water and vacuum extracted to accelerate the drying process.
Once dry, the fringe is detail groomed and given a final inspection.
If necessary, the fringe can be further treated to bring back that original bright white appearance it once had.
Free Pick Up & Delivery Included (minimum cleaning charges apply)
Area Rug Repair Service is available. re-fringing, edge repairs, moth damage, colour run, and re-weaving.
Replacement Area Rug Pads are also available. Ask your technician to show you samples of the premium quality pad best suited for your situation.
Call us today 604-565-7494 to get a free area rug cleaning quote, or book an appointment on-line!
Let's Get Started
Call us today 604-565-7494 for a free quote or book an appointment online!
No Obligation. No Strings. No Pressure.